Yekem car jinek Filistînî dibe endama odeya bazirganî û pîşesaziyê
Îman Awad yekem jina Filistînî ye ku hilbijartinên endamtiya encûmena odeya bazirganî û pîşesaziyê bi rê ve dibe.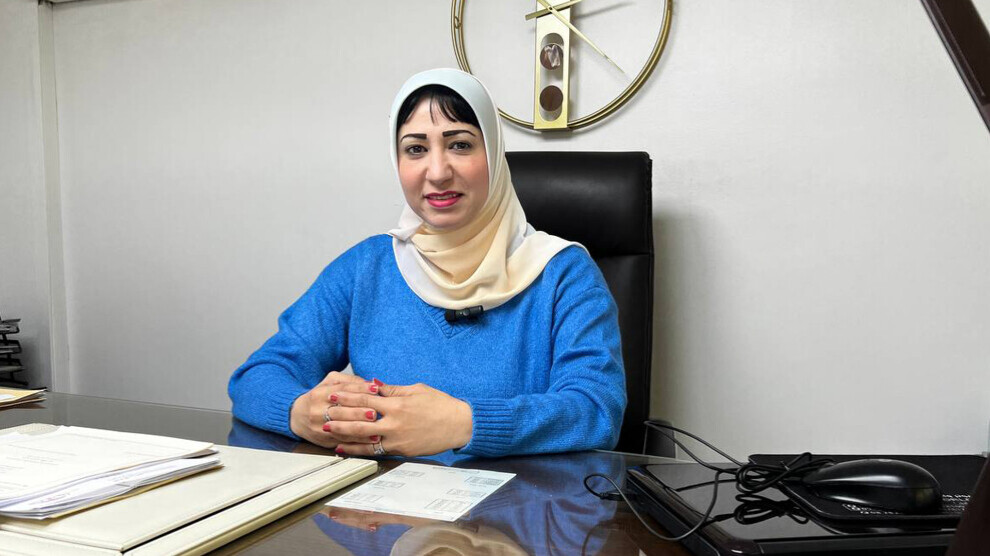 MAGHAM KARAJEH
Xeza – Hilbijartinên odeya bazirganiyê li bajarên Filistînê bi sîstema demokratîk yekem car di dawiya Çileyê 2023'an de ango îsal li dar ket. Ew cara yekem e ku jinek bi tenê li pêş 25 mêran dikeve pêşbirka hilbijartinan ji bo bibe endama encûmena odeya bazirganiyê.
 Îman Awad yekem jina ku dikeve hilbijartinên bazirganî li Filistînê, ev gav jî piştî 20 salan ji ked û xebata di beşên taybet û giştî de hat. Her  di nava van salan de bû seroka encûmena rêveber a şîrketa A and M ya geştûguzariya dermankirinê û şîrketa Kids Land û Pick and Cool ya bazirganî û avahîsazî her wiha ew rêvebera herêmî ya şîrketa Bîmeya Navneteweyî ya Yekbûyî bû.
'Her jinek lehenga romana xwe ye'
Îman Awad di destpêka axaftina xwe de dibêje ku jinên Filistînê hêja ye di hemû waran de bibin rêveber û biryarder, ji ber ku hemû jinên Filistînî piştî xebat û têkoşînek demdirêj destkeftiyên ber bi çav bi dest xistine, her yek ji wan lehenga romana xwe ye û wiha got: "Pêvajoya min a kar bi ked û têkoşîn bû, gihîştina navendên payebilind bêhtir kar, rijdbûn û hatûbat (avantûr) pêwîst dike da ku armanc û hêvî bibin rasteqîn. Li kêleka xwendina zanîngehê min di heman demê de kar dikir û bûm rêvebera şirketên herî girîng di beşên geştûguzarî û aboriyê de. Her serkeftinek bi gelek mercên dijwar re derbas bûye, her kesek jî bi rêbaz û romana xwe taybet xwe îsbat dike, di rewşa niha de em dibînin ku jin dikarin astengiyên xwe yên jiyanî derbas bikin û bi ser bikevin."
Îman Awad behsa hêz û tekoşîna jinan dike û wiha gotinên xwe didomîne: "Hemû jin deyndar in, di rastiyê de dikarin li hemberî şert û mercan û derdora xwe li ber xwe bidin û li ser piyan bimînin. Jinên din jî bi xwe re rakin, ji dema karê min di rêveberiya şirketê de, min dît ez her didim lewma di dema hilbijartinan de bûm namzed ji ber ku li gel min gelek tişt hene dixwazim bikim xizmeta kesan û civaka xwe."
'Hebûna jinan di hilbijartinê de xebatên jinên Filistînê diyar dike'
Îman Awad piştî di endamtiya encûmena dema li pêş de bi ser keve wiha plana xwe ya stratejîk dibêje: "Bi hemû hêza xwe ez ê guhertinên bingehîn rastîn di beşên bazirganî, pîşesazî de pêk bînim da ku civak bibîne rola jinan di rêveberiyê de xurt e û dikarin gelek armancên taybet li ser hemû astan di beşên kar û rêveberinê de pêk bînin. Hebûna jinek bi tenê li odeya bazirganî nîşan dide ku jin di nava saziyên herî aktîf di beşa aborî de dikarin biryaran bigrin. Her wiha hebûna jinan di nava beşek wisa mezin bi xwe li ser asta jinan  guhertinek bingehîn cidî ye ji ber ku ew nûnertiya dengê jinan û mijarên wê li ser bingeha rêgeza civakî dike. Hebûna jinan di hilbijartinên encûmenê de, têkoşîn û xebata jinên Filistînî diyar dike, jin bi hêz û vîn dikarin tevlî hilbijartinan bibin û bi kêrhatiyek bilind navendên payebilind birêve bibin.
'Jinên Filistînê hêja ye di hemû waran de bibin rêveber û biryarder'
Di beşa geştûguzariyê de, Îman Awad gelek alîkarî kir, dema serokatiya wê di desteya Filistînê ya xwaringeh û hotêlan sala 2020'an de dikaribû protokola hevkariyê bi sandîkaya pîşesazî ya geştiyarên Misrî re îmze bike. Her wiha rola wê di warê werzîşê de jî diyar bû,  wiha qala xebatên xwe dike: "Ez piştevana werzîşê me, piştgiriya çalakî û perwerdeyên werzîşê, pêşkêşkirina rêbaz û pêdiviyên kulûban li hemû bajarê Xezayê bi taybetî bakurê Xezayê de dikim."
Endamên saziyên jinan li Filistînê bi namzediya Îman Awad ji bo hilbijartinên odeya bazirganî şanaz û serbilind in, ji ber ku ew yekem jin bi ezmûnek wisa radibe. Her wiha wan piştgiriya xwe jî anîn ziman ku dê dengên herî bilind bistîne. Ev bûyera girîng di dîroka têkoşîn û destkeftiyên jinên Filistînê de tê tomar kirin. Îman Awad kêfxweşiya xwe bi hilbijartinan anî ziman û got: "Jinên Filistînê hêja ne divê di hemû waran de bibin rêveber û biryarder."